'Bound by heART' is an initiative of BTB in collaboration with SOS Children's Villages of India to spread joy and love through the medium of art and creativity. The organization has been doing excellent work with children and we feel privileged to be able to do our small bit towards their fantastic endeavour. SOS Children's Villages of India has been ensuring not just childcare, but also wholesome child development for parentless and vulnerable children since more than five decades, reaching out to currently more than 30,000 children. Come, make a difference.
Be a changemaker. Support here: https://www.soschildrensvillages.in/
As a part of this endeavour, we conducted the Bound by heART Mother's Day contest which is a beautiful coming together of the visual and literary art forms. Talented kids from SOSCVI give us a vision and the writers at BTB decorate it with their magical words.
---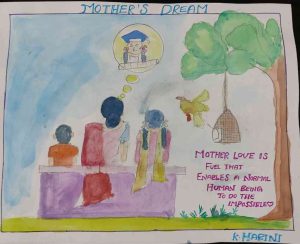 Radha worked as an ordinary maid in about five flats in a posh complex. She had three daughters – Vidya, Nitya, and Divya. She lived in a basti filled with narrow alleys. Most women there worked as washerwomen, maids, or Ayahs. Women were the main breadwinners as the men wasted their money drinking. Radha's husband was no exception to this. "I had saved the money with a great hope to enroll, at least, Divya in an English medium school. Every time I tried to educate my daughters, you buried their dreams. For you, girls are mere burdens. They need to learn household chores and get married early. Why don't you see the benefits of getting our daughters educated? They will have a better life. Their future will be more secure." Radha complained to her husband, Anil. "I have a wonderful dream. I want my daughters to be self-sufficient and confident. I want them to voice their opinion and not to be forced to do things against their will." She spoke wistfully. Anil listened to Radha's words; maybe he could see the eagerness, enthusiasm, and willingness to study in his daughter Divya's eyes. Yet, he could not say more as none of the families around him had got their daughters educated.