'Bound by heART' is an initiative of BTB in collaboration with SOS Children's Villages of India to spread joy and love through the medium of art and creativity. The organization has been doing excellent work with children and we feel privileged to be able to do our small bit towards their fantastic endeavour. SOS Children's Villages of India has been ensuring not just childcare, but also wholesome child development for parentless and vulnerable children since more than five decades, reaching out to currently more than 30,000 children. Come, make a difference.
Be a changemaker. Support here: https://www.soschildrensvillages.in/
As a part of this endeavour, we conducted the Bound by heART Mother's Day contest which is a beautiful coming together of the visual and literary art forms. Talented kids from SOSCVI give us a vision and the writers at BTB decorate it with their magical words.
---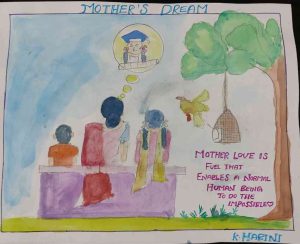 Radha worked as an ordinary maid in about five flats in a posh complex. She had three daughters – Vidya, Nitya, and Divya. She lived in a basti filled with narrow alleys. Most women there worked as washerwomen, maids, or Ayahs. Women were the main breadwinners as the men wasted their money drinking. Radha's husband was no exception to this. "I had saved the money with a great hope to enroll, at least, Divya in an English medium school. Every time I tried to educate my daughters, you buried their dreams. For you, girls are mere burdens. They need to learn household chores and get married early. Why don't you see the benefits of getting our daughters educated? They will have a better life. Their future will be more secure." Radha complained to her husband, Anil. "I have a wonderful dream. I want my daughters to be self-sufficient and confident. I want them to voice their opinion and not to be forced to do things against their will." She spoke wistfully. Anil listened to Radha's words; maybe he could see the eagerness, enthusiasm, and willingness to study in his daughter Divya's eyes. Yet, he could not say more as none of the families around him had got their daughters educated. 
Radha worked for a woman named Sarita, who had a daughter in the eighth grade called Saloni. Saloni took a liking to Divya and would engage with her. She noticed Divya's keen interest in reading and informed her mother. 
"Ma, Divya was looking at the storybook I was reading. She was rubbing her eyes. I brought her close to me. While I read the story of Goldilocks and The Three Bears, she looked at me with so much enthusiasm and eagerness. She finally asked me hesitantly if she could take the book. I smiled and asked her, "Do you know how to read Divya?" Suddenly her bright face turned pale for a few seconds, and then she smiled back and asked me if I would teach her to read and write. I have agreed to teach her for one hour every day after I return from school. I told Radha didi too. She was delighted with my proposal." 
Later, Radha approached Sarita and begged her, "Madam, please allow my daughter to study. She has a great interest in studying. I want her to get admitted to an English Medium School so that she can become a doctor and treat the needy. Please, will you and Saloni baby help her?'
Sarita agreed happily. 
Fourteen years later, Divya topped the twelfth board exams. Radha still worked for Sarita Madam and was grateful to her for making her dreams come true. 
As she went to thank Sarita and her daughter Saloni, Sarita told her,
"Radha, I believe that a mother's love is like a fuel that enables a normal human being to do the impossible. Divya is blessed to have a mother like you, for you have taught her to dream big. We wish her more success and pray that she fulfills the rest of your dream."
Tears of gratitude flowed down Radha's cheeks as Anil and Radha thanked Sarita for helping their daughter study. 
"Agar maine Vidya aur Nitya ko bhi padhne diya hota, to unki bhi zindagi shayad behter hoti Madamji. Aapko bohut dhanyawad." (If I had been able to educate Vidya and Nitya as well, their life would have been much better today. Thank you so much, Madam) Anil spoke with gratitude.
Anil understood the power of a mother's dream that day. It was because of Radha that a wave of change gradually began to change the shades of their grey sky. The sky was now an ochre hue, a hue to celebrate. All the girls in their basti now began to attend school regularly. Their mothers hoped that they would be able to lead a better life after being educated – a life of their dreams. 
Divya hugged her mother tightly and whispered, "Happy Mother's Day," holding her application form to join a reputed college to pursue her higher education with a scholarship.
// This story has been penned by Aditi Lahiry taking inspiration from the artwork in this post created by K.Hairini //