'Bound by heART' is an initiative of BTB in collaboration with SOS Children's Villages of India to spread joy and love through the medium of art and creativity. The organization has been doing excellent work with children and we feel privileged to be able to do our small bit towards their fantastic endeavour. SOS Children's Villages of India has been ensuring not just childcare, but also wholesome child development for parentless and vulnerable children since more than five decades, reaching out to currently more than 30,000 children. Come, make a difference.
Be a changemaker. Support here: https://www.soschildrensvillages.in/
As a part of this endeavour, we conducted the Bound by heART Mother's Day contest which is a beautiful coming together of the visual and literary art forms. Talented kids from SOSCVI give us a vision and the writers at BTB decorate it with their magical words.
---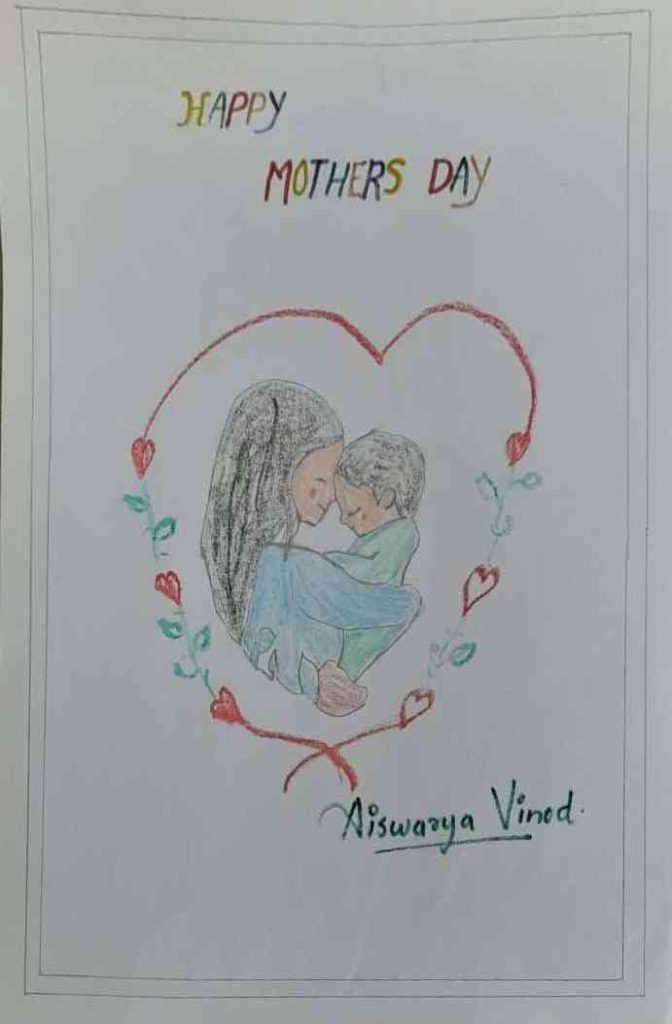 Dearest Mommy, A letter to you with a heart full of love, as I write
Rheumy becomes my eyes, cherubic face of yours never goes out of my sight
Ecstasy overwhelms as I remember those childhood days
Tough however the circumstances seemed, you stood by my side in my waning phase
Trapped and lonely when nights seemed oh! so dark and cold
Holding me in your cocoon warm, stories of valiant warriors you told
Resting in your lap every day seemed like a blessing divine
With time I realized you were my God, you were my shrine
I remember those days I took you for granted
Yet you kept bestowing me with whatever I wanted
Mommy, I apologize for being whimsical, rude, and throwing tantrums at times
Your altruistic love lessened never, you kept humming sanguine chimes
Lonely now that I feel, away from you, oh! so distant
That yellow saree of yours hanging in my cupboard, wraps me in a cocoon of blissfulness, pleasant
Variegated food items in top notch restaurants, fails to satisfy my growling tummy
How I miss your handmade soup and delectable chicken fry, o my dearest Mommy
Every day I smile, thinking of the day I will meet you, hug you, kiss you, once again
Restless mind of mine becomes placid, showers of your love divine incessantly rain
Mommy, THANK YOU for being that pillar sturdy in my life
Obliterating my inner gloom, murk, and unending strife
Unflinching faith you had in me, kept me going
How beautifully I metamorphosed with a heart benevolent and a persona glowing
"Every end is a new beginning" – your words stayed with me always
A guiding angel you became, in those gloomy and despondent days
Never did I lose hope, no matter how difficult circumstances became
Amidst harrowing murk, unflickering I stood, like a flame
Hazy seemed the future, thorny seemed the road ahead
Elegantly I marched, faced the storms, and never fled
Waves tempestuous and winds gusty failed to dampen my will indomitable
Over those wild seas valiantly I sailed, all thanks to you Mommy for making me able
Rowing my wrecked boat, you
Led me to the shore, dispelling all my melancholy blues
Doubts, fears, and qualms vanished in an instant
Touched by your hands tender, I glistened like a diamond brilliant
A soul close to my heart, you will always be
Elated I admit, you mean the world to me, Happy Mother's Day, Mommy!
// This poem has been penned by Sunita Sahoo taking inspiration from the artwork in this post created by Aiswarya Vinod //