'Bound by heART' is an initiative of BTB in collaboration with SOS Children's Villages of India to spread joy and love through the medium of art and creativity. The organization has been doing excellent work with children and we feel privileged to be able to do our small bit towards their fantastic endeavour. SOS Children's Villages of India has been ensuring not just childcare, but also wholesome child development for parentless and vulnerable children since more than five decades, reaching out to currently more than 30,000 children. Come, make a difference.
Be a changemaker. Support here: https://www.soschildrensvillages.in/
As a part of this endeavour, we conducted the Bound by heART Mother's Day contest which is a beautiful coming together of the visual and literary art forms. Talented kids from SOSCVI give us a vision and the writers at BTB decorate it with their magical words. 
---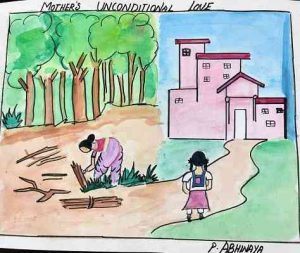 Hari always knew there was a woman or girl inside him. He used to hide his sister's clothes. Sometimes, he did make-up or danced with a feminine grace. Soon, his mannerisms and style caught the attention of the society, and all started bullying him in school. He was also sexually abused and was labeled with many terms – Chikna, Chakka, Trans and more. These were used to put him down. 
Life was miserable for him. One day, his dad beat him up when he did not stop behaving like a woman. He was 16 years old then. He ran away and started living on the footpath. There he saw kids getting exploited .
At times, he missed his mom and tears overflowed from his eyes. He had a small picture of his mom in his purse which he often looked at for strength. He began doing odd jobs and at times, also had to beg. Eventually, he found a place to stay in a small hotel room where he started working as a cook or helper.
He was surer now that he identified as a woman and underwent a sex change operation after a few year. The metamorphosis was painful. He changed his name to Sheila.
Sheila then adopted some street children. She started a school for them under a railway bridge called 'Chaya' named after her Mom. Some rag pickers, beggars or urchins started coming there as she gave them food also. She collected wood or sold tea at times. She also created a small garden where she often grew flowers or vegetables to sell. She worked so hard for all her children. Sometimes though, some good samaritans gave her children toys, gifts or books for which she was grateful. 
Soon, good word spread about them and her journey and efforts became viral on social media. Help came around but in all this, she never forgot her mom; her helplessness and misery because her son was different.
One day, she decided to go with all her kids to meet her mom. She was heartbroken to see that her mother looked frail and forlorn. Her drunkard husband had left her to her fate .
She hugged her and said," Look ma, what I got for you. You did not lose a child. I have got so many children for you. I shall take you in my home and look after you".
Mother's eyes were teary. She kept sobbing and tightly hugged her child and said, "What unconditional love you have for the world though they mistreated you. I am proud to have you as my child."
Sheila's mother went with her and stayed with her till her last breath. 
// This story has been penned by Soma Mukherjee taking inspiration from the artwork in this post created by P. Abhinaya //