Book title – Playing
Author – Sunaina Ali
Illustrator – Debasmita Dasgupta
Genre – Children's Fiction/Picture Book
Publisher – Katha India
Recommended age – 6+ years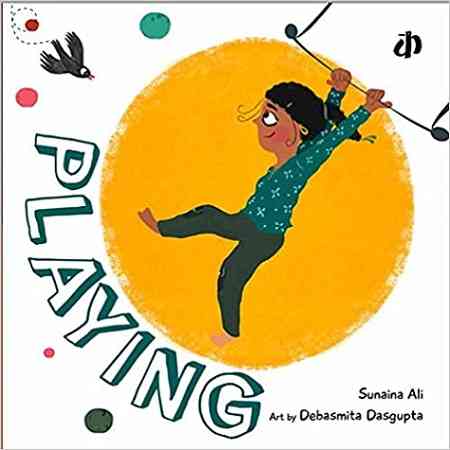 'Playing', written by Sunaina Ali, is a short yet delightful picture book for children aged 6 years and above.
The simple vocabulary makes the book easy to read for children, and keeps them hooked to the story. The illustrations by Debasmita Dasgupta are bright and eye-catching, making it a picturesque delight.
This book revolves around the main character, Ayesha. As a child who has special needs, she carries out day-to-day tasks, just like other children of her age. She also talks about various activities she does along with her friends. Ayesha is a happy and cheerful child, and throughout the story, she doesn't let her disabilities pull her down. Her friends accept her and love her for who she is.
This book can be used as a read-out-loud resource, and would be helpful in introducing new words. Children can also learn rhyming words in a fun manner. Early readers can independently read this book on their own as there are many familiar and simple words. There are very few words on every page, thus children would find it easy to read through on their own. The large and playful font also makes the reading experience fun!
I especially like the diversity portrayed towards the end of the book, where the illustrator shows Ayesha surrounded by her friends. Moreover, Indian children can easily identify with Ayesha and her friends.
There are activities at the end of the book, which would make children think and reflect on a tolerant and inclusive society – parents or teachers can use these to have an engaging discussion.
Not only does the book help spread awareness of children having special needs, but also encourages them to be confident about themselves. All in all, this is another gem from Katha Books and is a highly recommended read.
You can purchase your copy of the book from here.
// This book review has been penned by 15-year-old Harshita Sundeep Singh as a part of her association with Beyond the Box platform //