Book Title – The Chameleon Effect and Other Stories (Isapuram Tales – Book One)
Author – Anita Satyajit
Genre – Realistic Children's Fiction/Short Stories
Publisher – Anita Satyajit
Recommended Age – 6+ years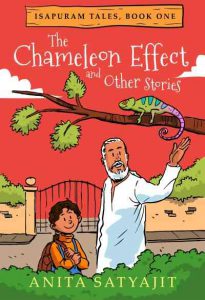 "The Chameleon Effect and Other Stories" is the first book in the Isapuram Tales Series by Author Anita Satyajit. The stories in the book are lovely and adventurous, and engage the readers in various emotions that depict faith in God and other human values. 
I love the characters of Diya & Baba and it is heart-warming to read how Baba explains about everyday life to Diya. Diya is a sweet and inquisitive 10-year-old girl. She is curious about various Gods and keeps wondering why people pray to different Gods.
Through his wise words, Baba gives us a strong message that all Gods are one and the world will be a better place if everyone prays and teaches the same lessons to others. 
Unlike chameleons, human-beings pick up habits from the surroundings. This is the takeaway from the stories in the book – to practise good habits, and to stay joyful and kind. I loved reading this inspiring book and I am looking forward to reading more from the Isapuram Tales series. 
You can purchase your copy of the book here. 
// This book review has been penned by 8-year-old Vihaan Khandelwal from Hyderabad as we celebrate the work of Anita Satyajit who has been chosen as the Featured Author of June 2021  at Beyond the Box //