Book Title – Hope: Stories for a healthy mind
Author – Pragati Sureka
Genre – Realistic Fiction
Publisher – Scholastic India
Recommended for Age Groups – 5+ years
Book Summary
This book contains three stories about three different kids – Ryan, Kabir, and Shoma – who come across various emotional challenges, which they are struggling to deal with and are unable to share comfortably with their parents. The stories depict the journey of how they overcome their challenges and learn to deal with the circumstances they are in. The book has a separate segment for parents too, with simple guidelines on how to boost a child's emotional well-being. This book is for parents as well as children for mental health awareness.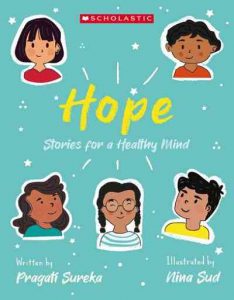 My Take
Meet Ryan, Kabir, and Shoma in this book – 3 kids with whom every child will relate to at some level. Courageous, intelligent, and thoughtful – these kids face various emotional challenges and problems, some within them and some around them which impacts them adversely. The way they overcome is very inspiring and would give strength to every kid who reads the stories.
The illustrations are soothing and support the concept well. While reading the book, kids can easily connect to the characters as they have been very realistically portrayed. Not many talk about mental health and emotional awareness when it comes to kids. Most of the times, we are either considered too young for these conversations or adults do not consider it important enough. Hence, a book like 'Hope' truly gives hope to children. It gives a strong message about mental well-being, why it matters, and what you can do to keep people happy around you. Also, it helps in understanding coping mechanisms in the stress and strain of modern life. From a child's perspective, I feel this is an important book to help address the various doubts a child would have in mind.
Final Verdict
Though in terms of reading level, this book is meant for younger kids, I think everyone including adults must read it. It would help a child develop a strong worldview and emotional quotient. I recommend this book to be included in every child's and parent's life, and also in every school and library.
You can purchase your copy of the book here.
Cover Image Source: www.indianexpress.com
// This book review has been penned by 10-year-old Srikar Chitta and has been chosen for publication on our platform from the weekly submissions. //