Book Name – Dasavatara
Author – Piyusha Vir
Illustrator – Aparajitha Vaasudev
Publisher – Westland (Red Panda Imprint)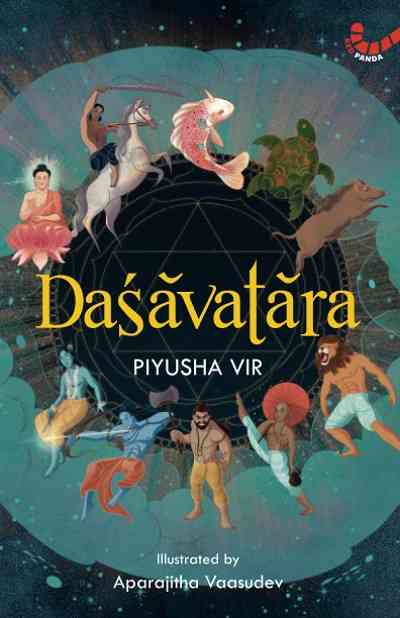 'Dasavatara' by Piyusha Vir, as conveyed in the title itself, is a book about the 10 main avatars of Lord Vishnu (the preserver). The book consists of short stories about each of these Avatars. All of these stories have an underlying theme – when darkness tries to take over the world, Lord Vishnu comes to the rescue as, after all, he is the preserver!
The book explains everything in a very simple language and keeps you curious till the end. The narration is so engaging that I felt as if the author was telling the stories to us sitting right in front me. Like this example – (Umm, okay if the Lord himself says so, you better believe him! (Or weird, no?)). This style is unique and made the reading experience interactive. I also liked how she has shared information about the basics that we need to know before we start reading the main chapters which is something missing in most books. The illustrations are so beautiful, intriguing and so appropriate to the avatar that is being depicted.
'Dasavatar' is informative and also a fun book to read which introduces mythology to the kids in a very easy and light-hearted manner. Each chapter is dedicated to the story of one avatar of Vishnu. There are various facts about different characters and incidents, presented in a small box in each chapter which I loved very much. These help you understand what happened before the story and set the context by presenting interesting backstories about different characters relevant to the particular avatar. Though I loved all the avatars, my favourite is Maryada Purshottam Rama because it is so vivid. I so much enjoyed reading the scene of Taraka's encounter with Lord Rama aloud to my little brother and cousins. And last but not the least, the DIY poster included in the end of the book is very thoughtful and an enjoyable addition to the experience of the book.
On the whole, 'Dasavatara' is crisp, highly enjoyable, and definitely unputdownable. If you are a mythology lover or anyone looking for a good book to read, do add this wonderful book to your book collection!
You can purchase the book here.
// This book review has been penned by 11-year-old Anisha Sharma and has been chosen for publication on our platform from the weekly submissions //