The book "Against All Odds" tells us a creative and thoughtful story, but the only problem with it is that you can't put it down once you start reading it. Kavya and Kartik are twins who shift to Rourkela from Kolkata. Kartik is one-armed since birth and hence, has many apprehensions about how he would be treated in the new school in Rourkela. What happens next is for you to read and discover, but I can vouch for the fact that it will be an emotional and motivational experience for you.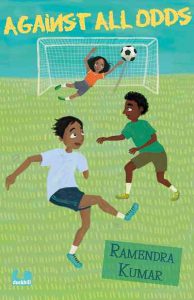 Football and dance lovers will adore the book the most I believe. Even though I am none of these, I learnt that nothing is impossible if one is dedicated and determined. Kartik is a hugely inspiring character who faces all challenges and gives his best shot. I also learnt from this wonderful tale that it is best to ignore all the people who make fun of us. What we are defines us and what others say is only their perception and perspective. Apart from Kartik, my other favourite characters in this book are Tina and Mirza Sir because they both are kind and caring towards others, and are the kind of people the world needs. I will recommend this book to everyone irrespective of age because there are many great life lessons for each of us in this poignant story. 
You can purchase the book here.
// This book review has been penned by our 11-year-old student Ananya Gulati as we celebrate the work of Ramendra Kumar who has been chosen as our Featured Author of November 2020 //