Book Title: The Canine Chronicles – Love & Laughter in the Times of Corona
Author: Ramendra Kumar
Published By: Blue Pencil
"The Canine Chronicles" is a humorous, entertaining and heart-warming tale written from the point of view of Aryan, a lovable black 6-year-old Labrador 'guppy' or 'grown-up puppy'. The book focuses on how he spends his days in the Covid-19 Lockdown with his family of four, his conversations with his best friend and neighbour guppy Priyamvada or 'Pri', and includes anecdotes from the point of view of 'Papa' – Aryan's human dad.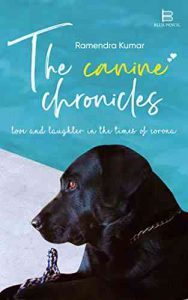 The book is funny and interesting to read, with the right blend of traditional and modern. The main characters are easily relatable and it is also strange, yet fascinating, to experience common incidents from the perspective of the dog and his feelings. For example, taking Aryan for a ride in the car after office hours is somewhat a ritual for the family members, but it is a thrilling experience for the Labrador himself which he looks forward to every day.
Aryan also talks about the joy he feels when his 'siblings' finally come to visit, their continuous pampering of him, Pri's great vocabulary and philosophical speeches, and Papa's strictness towards him. Overall, I think the book wonderfully depicts the bond between a dog and its human family. It makes for an easy and enjoyable read and I would recommend it for all age groups, especially since it gives such an important message – to sit back and go with the flow!
You can purchase the book here.
// This book review has been penned by our 12-year-old student Prisha Gupta as we celebrate the work of Ramendra Kumar who has been chosen as our Featured Author of November 2020 //