We launched the "BTB Wall of Fame" initiative in June 2020 to celebrate the authors we love and to give our patrons a chance to learn from them and know them better.  It is our honour to share that the next author to enter the BTB Wall of Fame is Manjiri Prabhu. She is our Featured Author of July 2020 and will be LIVE with us on our Facebook page on 28th July 2020.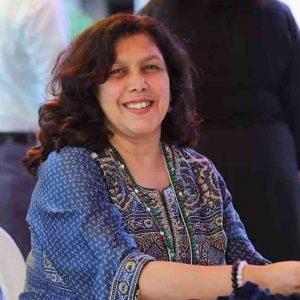 Dr. Manjiri Prabhu holds a Doctorate in Communication Science and is an independent film-maker for Television, a Writer/ Novelist in English and also the Founder/ Director of a Literary Festival. She has directed over 200 children's TV programmes, more than 50 short fiction and travel films and has authored 11 books. Her unpublished psychological thriller novel was adapted into a Hindi feature film by NFDC, titled Kuchh Dil Ne Kaha. Her thesis, converted into a book, titled Roles: Reel and Real, has become a rare reference book for students of Hindi cinema.
Prabhu has been acknowledged as a pioneer in India among women writers of mystery fiction, and she has a diverse global fan following. She is also the first female mystery Author to be published outside India and has been labelled as the 'Desi Agatha Christie'. And much recently, Prabhu has been acknowledged to be a 'match for Dan Brown' by Dr. Shashi Tharoor. She has been invited to reputed International Literature Festivals like the Agatha Christie Festival, UK and International Women Fiction Writers, Matera, Italy.
Her novels 'The Cosmic Clues' was selected as a Killer Book, by Independent Mystery Booksellers of America and 'The Astral Alibi' was honoured as a 'Notable Book' in the Kiriyama Prize. Her books have been published by varied reputed publishers like Penguin, Bloomsbury, Random House USA, Jaico Books, Rupa Publications and Times Group Books. As the Founder/ Director of Pune International Literary Festival, Prabhu has brought Pune city on the International map of Literature and Arts festivals. She believes that literature heals and is a prerequisite to a peaceful society.
She has been awarded 'Inspirational Women of Maharashtra -Excellence in the field of Writing' (2017) and 'Most Admired Leader of Maharashtra' by ERTC Global Herald (2017). She was also awarded the Rex Karmaveer Gold Medal Award (2016) instituted by iCONGOs and the UN.  She is an animal welfare activist promoting caring and adoption of street dogs.
To know more about her and her work, please visit her website.
Keep watching this space for lots of learning with her this whole month.