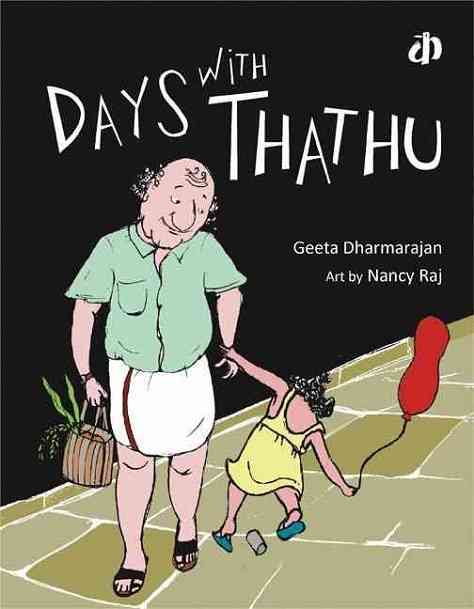 'Days With Thathu' is an absolute gem of a picture book. The whimsical story paired with the simplistic writing style and Shel Silverstien reminiscent illustrations creates a beautiful tale exploring the bond between grandparent and child. Perfect for young children, this book is sure to be on the bedtime reading list for a long time to come.
Young Malar lives with her Thatha, who takes her to the cinema and spends hours playing in the rain with her. Malar's admiration and love for her grandfather shines as one of the major themes of the book, and the situations presented (reading a book, playing with a steering wheel etc.) are relatable for many. There are very few books in the literary world that look at the grandparent-child bond, and even less that are like 'Days With Thathu'- a straightforward portrayal of the affection they share and veer away from long moralistic tales and memoirs. Geeta Dharmarajan has crafted a tale focused on what really matters: the memories we make, the time we spend and the love we share.
The sentences in this book suit the story and the intended audience, especially since we are following Malar's thoughts and not the thoughts of an adult. It also adds to the lovely, childlike illustrations which coupled with occasional bursts of colour, have an air of sophistication that appeals to both children and parents alike.
All in all, 'Days With Thathu' is a must-read for all young children (recommended for ages 6 and below), and is a realistic, relatable representation of the grandparent-child relationship.
You can purchase the book here.
// This book review has been penned by our 12-year-old student Purvaja Y as a part of our association with Katha India. Do check out the brilliant collection of Katha Books here. //