I am like a rose carefully raised by you,
But unlike it, I am lifelong fresh, and it's all because of you.
You make sure my petals are blooming red,
You make sure the ground is soft and comfy as a royal bed.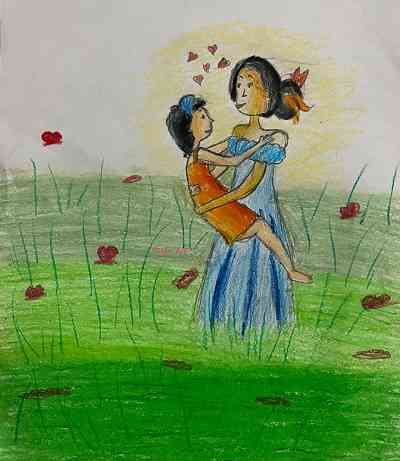 You fed me enough starch even if I told you not to,
Today I understand why you had nourished me so.
Now I glisten in the moonlight, all shining bright,
You are the one who brought that light.
You make me go crazy sometimes,
But immediately, you turn them into good times.
You shine sunlight on my shivering veins,
So much trouble you went and so much pain.
You are the sun, moon and stars that make my life so rich,
As you soothe down my bleeding itch.
How a mother plant huddles to protect and support her baby,
Similarly, you support my skills, passion and hobby.
I promise, I'm gonna fulfil all your wishes,
So, don't stop pouring your gentle and soothing kisses!
// This piece has been penned by 10-year-old Prisha Ambi from Pune on the occasion of Mother's Day 2022 and has been chosen for publication on our website as a Mother's Day Special Feature //