Book Title – The Nameless God
Author – Savie Karnel 
Genre – Realistic Fiction 
Publisher – Red Panda
Recommended for Age Groups – 7+ years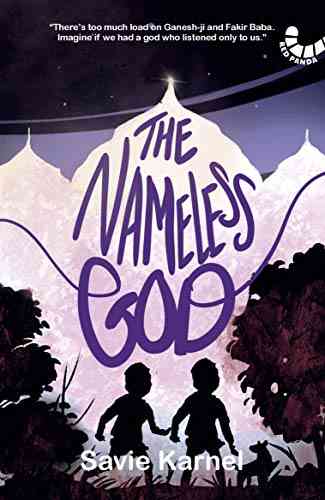 "There's too much load on Ganesh ji and Fakir baba. Imagine if we had a God who only listened to us."
'The Nameless God' is an action adventure novel with a deep-rooted social message written by Author Savie Karnel. It's based on the premise of friendship, loyalty, non-discrimination, understanding and trust. Karnel tells us about how two friends of different religions help and support each other without any discrimination or biases. When their most trusted Gods let them down, they create their own God, one who has the dargah's red thread tied around it, the turmeric and vermillion powder of the temple spread on it, and the cross of Jesus from the school corridor!
The book also shows us the unpleasant side of politics and religion, and how it's been affecting us for over decades now. Karnel writes about how we should not always believe what people say until and unless they have some evidence for proving their point. No matter which faith we follow or believe in, be it Christianity, Sikhism, Buddhism, Hinduism, Islam, Parsi, or any other, we should always respect other person's beliefs. 
This book gives us a message that it doesn't matter which religion you follow, what gender you are or who you love and respect; what matters is who you are as a person, what you do for the society and how you treat each other. Sure, you might feel cheated sometimes, or threatened or weird, but you should always look at the other person's perspective. Maybe, they were right in their own place. Sometimes, people make genuine mistakes, after all, we're all humans, that's how we learn! The story stresses on the importance of humanity, love and acceptance, which should be above anything else. 
I would recommend this book to children aged 7 years and above, and can definitely say that this will be a great read for them!
You can purchase your copy of the book from here.
// This book review has been penned by 14-year-old Nandini Agarwal from Kolkata as we celebrate the work of Savie Karnel who has been chosen as our Featured Author of April 2021  //