Book Title: Manya Learns to Roar
Author: Shruthi Rao
Illustrator: Priya Kurian
Genre: Realistic Fiction
Recommended for Age Group: 6+ years
Published By: Duckbill Books and Publications Private Limited
"Manya Learns to Roar" is a story about a girl named Manya who struggles due to stammering. The book depicts her journey of overcoming her fears and apprehensions, in a realistic and entertaining manner.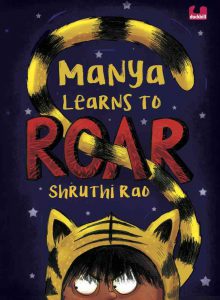 Plot Summary
Manya, a student of 5B, is excited to participate in the Panorama fest which is an inter-school competition. Their class is going to perform a play by Rudyard Kipling titled 'The Jungle book'. It is loved by Manya and Shere khan is her favourite character. The fact that she stammers doesn't bother her when she boldly and excitedly goes ahead to audition for her dream role. She gets selected for the role and the class starts with the rehearsals.
The journey of Manya from the rehearsals to the final day when she performs is inspiring and fascinating. All along, she learns to ignore the negative elements in her life like Rajat and comes to believe in her own self, with the support of her best friend. She also learns to count her blessings and move ahead with self-acceptance and self-awareness.
My Take
What I loved the most in the book is that it has a slice-of-life storytelling and we know how Manya is making memories as she goes through a transformation. There are many interesting and layered characters in the story – Rajat, Ankita, the other students, Ms Menon and Ms Sidhar-Ali – all of whom have a key role to play and make an impact. My favourite character is that of Ankita who shares a very special bond with Manya. She is her best buddy who always stands by her side and has a lovely perspective towards issues in life. The doodling between them as a code language was so much fun to read.
Ms Sidhar-Ali is a teacher we all would love to have. She always believes in Manya and her capabilities. She encourages and guides her to bring out the best in her. I also liked how Manya finds a way to deal with Rajat who is constantly annoying her and putting her down. This has been handled in a believable way by the author.
Final Verdict
The message from the book which I will always remember is – 'You cannot always control what other people say or do. All you can change is how you react to them'.
"Manya learns to roar" teaches us to never give up and believe in ourselves, and also brings out the power of true friendship. The book definitely roars loud and is a recommended read for everyone.
You can purchase the book here. 
// This book review has been penned by our 10-year-old student Manan Agrawal as we celebrate the work of Shruthi Rao who has been chosen as our Featured Author of October 2020 //