Gatila is a black cow who has low self-esteem due to her black colour. She does find an unconventional, easy way to 'make' herself pretty by painting herself in different colours. The story is about whether she finds happiness and satisfaction with a new colour or ends up loving herself the way she is.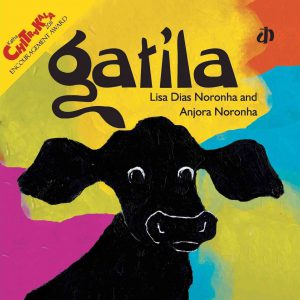 What I loved is that the story is narrated by a little girl who lives in a village with her sister in an engaging and appealing style. There are many tummy tingling instances in the story. Like when Gatila asks a frog if he thinks she is pretty, it left me in splits. When the grandfather says, "Gatila, you are one mad cow!", as a reader you realise the smart writing that blends comedy and a strong message together. The story plot has been used creatively for effect. For example, the butterfly encouraging Gatila to get creative was an interesting idea.
Gatila is a great book packaged with a good dose of humour and beautiful illustrations. It is entertaining and also conveys without being sanctimonious that we all should appreciate and accept ourselves the way we are and not try to fit in. I recommend it for kids aged 1-12 years. Adults will also enjoy reading the book.
You can get your copy of the book from here.
// This book review has been penned by our 10-year-old student Alankrita Ahuja as a part of our association with Katha India. Do check out the brilliant collection of Katha Books here. //