HYRT 304 along with HYLC 167 hosted a joint fundraiser – "The Bubble Show". This absolutely fabulous event was hosted by Maxwell, the International Bubbleologist from UK. With fluid hand gestures, Maxwell formed kaleidoscopic orbs and psychedelic waves and kept us enthralled throughout.
Beyond the Box is happy and fortunate to have associated with this fund-raiser as an Associate Sponsor. BTB kids together raised 9k to ensure 30 kids from Future Foundation Orphanage could get to experience this one of its kind show.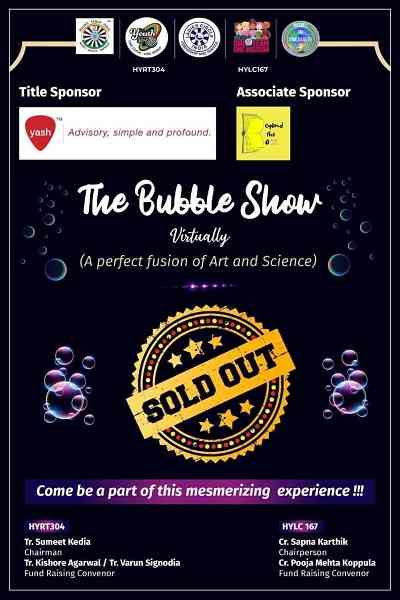 The proceeds from the event attended by close to 300 kids will go towards building classrooms/supply of stationery.
A special thanks to all the kids who came forward and contributed whole-heartedly to make the first fund-raising initiative of Beyond the Box possible:
Srikar Chitta
Sharanya Swarna
Manan
Vihaan Khandelwal
Advait Sadhvani
Agastya Sadhvani
Anvi Nair
Avni Nimesh
Navika Kothari
Trisha Rath
Renee Dalmia Barnwal
We are grateful to Sapna Karthik
for the association.