Book Title – Mayil Will Not Be Quiet
Author – Niveditha Subramaniam and Sowmya Rajendran
Illustrator – Niveditha Subramaniam
Published By – Tulika Publishers
Recommended Age Group – 11+ years
About the Book
This is a fictional book about real-life challenges any middle school girl goes through. It's an amazing book that will make you cry and laugh and teach you all the crucial things one needs to know while growing up.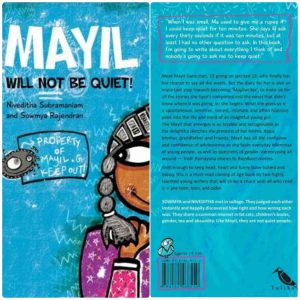 Synopsis
Have you ever wondered why that weird, quiet man wears a saree you see on a train or a bus? Or why all the great Bollywood actors/actresses are fair and white-skinned? Well! This book is a must-read if you are as curious as Mayil! It talks about everything any girl wants answers to. It's a beautiful book explaining transgender, skin color, sex, love, and much more. Family drama… school fights! Enjoy how Mayil beats the irksome Jyothi, rejoins forces with Ki, and calmly handles the 'V.S. Situation'.
About the protagonist
Mayil Ganeshan is a talkative and headstrong girl who is often scolded for talking sense. This book talks about how Mayil overcomes love issues, competition, and being bullied because of her skin complexion. But none of this brings her down. Mayil has the guts to punch bullies, smack in their faces, and show them who the real boss is. 
My Take
I really don't have anything to say about this beauty. I am just speechless. The way the authors expressed Mayil's feelings is remarkable. I recommend this book to everyone who experiences drama at home or school. Adults – don't you dare ignore this book! Not only it might help your kids, but it will also give you lots to introspect and learn from. Quick! Grab this book because you don't want a library without this lovely book, now, do you?
You can purchase your copy of the book from here.
// This book review has been penned by 11-year-old Prisha Ambi from Pune and has been chosen for publication on our website from the weekly submissions to BTB //