There are some children who never fail to surprise us with their amazing talents. One such multitalented wonder child is 10-year-old Prisha Ambi. It is a pleasure to write about this amazing girl, who has achieved many accolades at such a young age.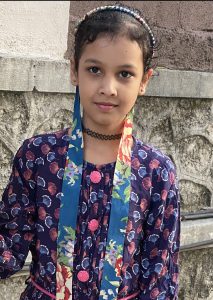 Prisha has a great passion for dancing, for which she has been taking training since the last five years. She has given international ballet exams as well. Now she is all set to give grade 2 international CSTD and ISTD exams. She makes amazing illustrations. She is an avid reader and has a mini library at home. Above all, she has a great and consistent flair for writing stories and poems for which she has won several accolades both from her school as well as various social media platforms. A student of grade 5, Prisha lives in Pune, Maharashtra with her parents.
Prisha has also been taking Trinity College of London speech and drama, and communication skills graded exams along with University of West London oral communication graded exams. She is very fond of illustrating and her illustrations have been published along with her poetry and stories.
Below is a list of her literary works published in various magazines and online platforms. 
Authoropod – an e-magazine – illustrations and poetry – A Plant Like Mother

Kidliomag – an e-magazine – Story – Elizabet and Raina

Kindle e- book – Holi A Streak of Colours An Anthology – Story – The Stage, along with her illustration

BTB Website – Poetry – A Plant Like Mother with illustration




                          Poetry – Books, My Friends




                          Book Review – Esperanza Rising with illustration




                          Book Review – Out of My Mind with illustration

BTB Chronicles Edition 7 – Story (her diary entry) – How I Met Chocolate




BTB Chronicles Edition 8 – Poetry – What If?




BTB Chronicles Edition 9 – Story – The Run-Away Girl 

BTB Facebook Page – BTB Boosters

BTB ConVERSE 2 – Poetry – Exam or I, Who Wins? with the illustrations 

She has won many awards on platforms like BTB and Innovation Shuttle apart from being recognized for her talents at school where

she has won many poetry recitation competitions. 

Winner of Read Your Story event on Beyond Academix platform.

Winner for reading her poetry on the occasion of Mother's Day at Kitabi Chai, a library. 

On BTB platform, she has won many monthly writing challenges and also the runner-up award in the category of Writing Challenge Acer of the Year at BTB Wordsmiths of the Year Awards 2021.

BTB Write-A-Thon Winner, Runner-up of BTB Two-To-Tango.

A star performer at her speech and drama school festival for performing a monologue.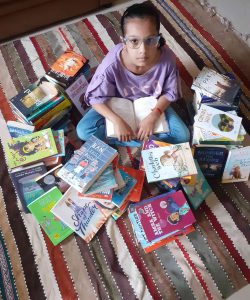 Here is what she told us about her journey and her learnings while she shared valuable advice for children who wish to explore the writing arena.
Question – Please tell us about yourself.
Answer – I am ten years old and passionate about writing , illustrating and dancing.
Question – When did you get associated with #BTB and Anupama Dalmia?
Answer – I got associated with Anupama Dalmia Ma'am around 2 years ago with the help of my mother Seema Ambi, who is a well known writer and poet on social media platforms. 
Question – What is one important thing that you have learnt from #BTB platform?
Answer – I have learnt "Never to give up" and to always express my thoughts on any given topic in the best possible manner without any inhibitions.
Question – What are the topics that inspire you to write?
Answer – I love to write about topics and characters that revolve around my daily life.
Question – What suggestions  would you like to give to children like you who wish to start writing ?
Answer – I would like to suggest that they pick up their pen and paper and start writing about anything/any thoughts that come to them. Their writings will start taking shape and form gradually.
Question – Which is your favourite book ? 
Answer – I like the Aru Shah Series by Roshani Choksi because it's very interesting.
Question – Whose writings inspire you the most?
Answer – My mother's writings help me to stay inspired and motivated among other writers.
// This interview has been conducted and documented by Aditi Lahiry on behalf of Beyond the Box as a part of the BTB Trailblazer series. BTB Trailblazers are those writers who have consistently proved their writing mettle on our platform across our various initiatives and have inspired many others to join the community to unbox the joy of writing. //