As a creative writing mentor, one concern most parents come up to me with is "My child does not read". Honestly, when I probe further, I discover in most cases that either the child has not really been encouraged to read much during the formative years or has not been exposed to his/her choice of reading material/books. We live in times when kids cannot have a gadget free childhood. So, to get them to choose reading activity over indulging in alluring gadgets would require some effort and patience on the part of the parents as well as teachers. Reading has to be made fun for them and one of the ways adults can achieve this is by giving them the right things to read. By "right" things, I do not mean a set of standard list of books or magazines or newspapers but something that the child can connect to and take pleasure in.
Having worked with children closely for a while now, I strongly recommend that they subscribe to a children's newspaper as this helps inculcate reading habits in them while keeping them abreast of the happenings in the world at the same time. Once they get accustomed to reading the newspaper, they have something to look forward to on a regular basis. If you are on the lookout for an appropriate child's newspaper which is the right balance of fun and awareness, "News Shuttle" would definitely be a great option for you to explore.
News Shuttle is a bi-monthly children's newspaper meant for kids aged 6-14 years with the intent to engage kids with fun, safe and empowering news. I read a couple of their editions along with my students and we thoroughly enjoyed soaking ourselves in it. Not only did this enhance their general awareness but we also ended up having constructive discussions on the topics we read about.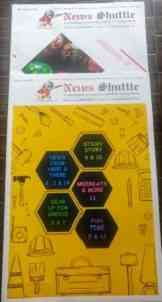 3 key aspects that make "News Shuttle" unique and interesting
Look and Feel – News Shuttle has an attractive look and feel which is bound to appeal to the young readers. The high quality glossy paper makes it easy for kids to handle the newspaper and the large, clear font size makes it a comfortable read for them. The overall combination of colours used gives it the right amount of vibrancy to tempt a child without going overboard.
Kid-Friendly content – One of the biggest plus points of News Shuttle is what matters the most – the content. I am mighty impressed with how they present a news item from across the globe in a manner which is easy to comprehend, yet having all necessary details in place. My students did not struggle at all to understand the information at their disposal and I believe this kind of smooth reading experience adds to their curiosity and interest to dig more into the contents.
Variety & Fun – News Shuttle does not just focus on current affairs but aims to enrich the knowledge of kids in a variety of spheres like Science, Sports, History, Mathematics, Geography, Language and more. There are fun puzzles and riddles to keep the children engrossed and the newspaper also provides details of local events meant for the younger ones. Not just this but there are beautiful fictional stories, artworks, poems and other creative sections as well in the newspaper to offer a wholesome reading experience to the readers.
They currently have three subscription options to choose from – 3 months, 1 Year and 2 Years.
Do visit their website to know more about them and to subscribe for the newspaper. I am sure you and your child will not be disappointed!