Book name – Esperanza Rising
Author – Pam Munoz Ryan
Publisher – Scholastic
Recommended for Age Group – 8-12 years
'Esperanza Rising' is an interesting book about a girl named Esperanza who thought that life is always full of happiness but a sudden change brought a whole new life in front of her. The book focuses on how she accepts this new life and rises to new heights.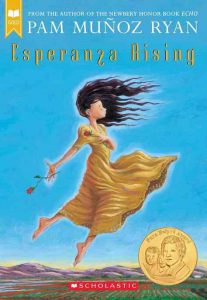 The story begins with an interesting conversation between Esperanza and her father in a vineyard. He tells her that earth has a heartbeat and asks her to listen to it quietly and patiently by lying down like a caterpillar.
Six years later, just a day before Esperanza's 13th birthday, her father dies and her father's stepbrother, Tio Louis, takes charge of the family and the family business. Two days after her birthday, Tio Louis asks Esperanza's mother to marry him to which her mother refuses. Unable to bear the marriage refusal, Tio Louis burns down Esperanza's home.
During the fire, Abuelita (Esparenza's grandma) hurts her ankle. Tio Louis gives Esparenza's mother another chance. Two of her servants, Alfonso and his wife Hortensia, request her to accept the proposal because Tio Louis would burn down the servant's bedroom as well. They hatch a plan to run away, so that meant that they would say 'yes' but before the marriage they would escape!
They decide to go to California. First, they travel in a cart but then they are required to travel on a dirty train which Esparenza isn't used to. When they finally reach the place, they live with Hortensia's niece and friends. Esperanza does not like that place at all because a bed meant for two is used by three – Isabel (Hortensia's niece), Esperanza and her mother.
Life becomes even worse when Esparenza's mother becomes ill and she has to start working in a farm to replace her mother and earn money for a living.
The book represents that life is not as easy as it seems. The author has narrated it so beautifully that I was glued to it every time I read it.
Esperanza rose from the darkest moments of her life! From a bubbly girl to a responsible person, she fought all odds and proved that one can take life as it comes and live it to the fullest. I learnt a lot from this book and would definitely recommend it to book lovers.
// This book review has been penned by 9-year-old Prisha Ambi and has been chosen for publication from the weekly submissions. The cover image of this post has also been created by the child. //