When I was growing up, my father's books were a constant source of fascination and awe for me. Since both my parents were into reading, it wasn't long before I was baptized too. We moved house often which meant my hoard couldn't move en masse every time. Besides, like every kid growing up in the eighties, it was a given that there were only as many books the parents would buy.
Desperate souls like me looked outward, borrowed from friends and to make the buck last longer, plan and buy in such a way that our collection never overlapped. Then there were the libraries, a piece of heaven. To this day libraries take me back to my childhood reminding me that there are good things in this world. They are like power banks where I can go and recharge myself.
Having lived in Delhi I've been to the huge public libraries that were well stocked but daunted the tiny moi and I had to depend on a parent to take me there. It was the tier 2 cities with their friendly nukkad libraries on the streets' corners that will always have my heart. Run by friendly old uncles and aunties, they were our version of Mom-and-Pop stores that sold groceries and sundry stuff with a corner dedicated to books.
The earliest I recall, at ten paise a book it was paisa vasool, worth every single penny. There were kids who'd beg to stand there and finish the book because their parents didn't give them money. With my mum letting me borrow five at a time, I felt incredibly rich.
I often hear why we need libraries or books when we can 'Google' our way through. The internet is a whirlpool and it's the libraries that help us keep our face above water. One may find a lot of answers on the net, but only in the books shall we find the right answer. Our generation started with books and then graduated to the internet so we find it comparatively easier to spot fake and incorrect information. The books may come in electronic formats but they would always be a more reliable source.
Shutting down libraries and bookshops in times of pandemic may make economic sense to some but I agree with Eleanor Crumblehulme— Cutting libraries during a recession is like cutting hospitals during a plague. Those who complain of costs to build and run a library forget the price they may have to pay for an ignorant country.
The thought isn't a pleasant one so when Anupama Dalmia, Founder of Beyond the Box, approached me to talk to a few individuals who are trying to run online libraries on their own steam, I had to hitch on to the bandwagon.
When I touched base with these women, I was expecting more than just a random collection of books and I wasn't disappointed. All of them were professionals whose previous jobs had no link with libraries or books. When they set out scouting for libraries to source books for their little children, they didn't have much to go ahead with so they simply went ahead and made one in their city. The common thread that runs through them is their passion for books and the desire to build communities around their libraries.
They may or may not have been readers but they are encouraging children to read; converting them into readers, one at a time. To build up a library is like creating a life and their voices reflected their commitment towards their cause. Calling them library owners wouldn't do justice to them. They curate books for their readers and make reading lists based on their interests. COVID and the pandemic tested their mettle but they went online and are back on track. I posed them all a question— how do they make an online library an interactive experience for children? All of them are passionate story tellers and the pandemic only meant moving their live story telling sessions and the interaction to zoom sessions, YouTube and video calls. Here's a little on all of them;
Amanpreet Kaur, its founder, has always been attracted to libraries. When she moved to Jaipur, she felt a little lost especially for her kids' needs. Fascinated with the world of children's books she tested waters in 2018 with weekend events and Pop ups. She enrolled for a 2-day course in storytelling at Bengaluru to provide wholesome experience to the children and encourage them to read, write and express. She also attempts to connect authors with readers through a series of YouTube videos. Based out of Jaipur, they offer doorstep delivery to subscribers in the age group of 2.5-13-year-olds, in Rajasthan and Punjab.
When Neha Jain realised that buying every book to read to her little daughter wasn't feasible, she searched for alternatives. Disappointed but not discouraged, she started from her home in Bengaluru with her collection of 1500-2000 books. She is adding to her YA fiction collection but her youngest subscriber is a 5-month-old. In 3 years, Kahaanibox has reached 25000 books (I kid you not) and delivers to 18 states. As her community grows stronger, her daughter has picked up the precious lesson of sharing. When COVID loomed, the physical library shut but 250 more subscribers got added online. She holds video calls with them to help them build their 'book boxes' before shipping them out.
A passion led initiative by Anisha Bajaj, a mother of two, Kidzalaya's vision is to partner with parents and kids in their reading journey. She discusses their reading patterns before making suggestions and fine tunes it with a monthly feedback mechanism to help them explore a variety of authors and genres. Though COVID prompted her to give up the rented place, her subscriber base has expanded and kids have upgraded their reader skills during this time. They've grown book by book in last 3 years from a handful to more than 15,000 books. Though based in Mumbai, they have a pan-India delivery for customized books on rent and read basis catering to the age group of 0-12 years.
Kishori Bekal, an Engineer by profession, began in 2019 with 200 books and 2 subscribers that has now grown to almost 700 books and 50 subscribers. Running it from her home in Bengaluru, the library caters to the age group 0-10 years. She insists on reading every book before it finds place on the shelf. She believes in making books affordable and accessible and says that it's her way of contributing towards a better society.
Tina Bakhtiani, the force behind this venture, she started in 2016 after she spotted her then five-year-old son hooked on to picture books at a friend's place in Mumbai. To her dismay, back home in Baroda there were a few toy libraries but none with books. She began with 400 books and 10-15 subscribers. The books have quadrupled and the subscriber base has increased tenfold since then. Catering to an age group of 0-14 years, as she operates out of Baroda, her biggest challenge is to create awareness and encourage a reading culture. With school libraries not offering much, her job becomes tougher. Not one to give up, she connects with children and their parents to offer them tailor made lists of books.
When Srividya settled in Bengaluru from US, she missed its libraries the most. Like others she went ahead and built one in her home with 400 books. This was in 2019 and now her collection has grown to 1000 books. She calls herself a storyteller and loves to share amazing stories with kids in a fun and interactive way, live or through You Tube videos. Through her venture she feels she is doing her bit for the environment and aims to provide rental books to kids at an affordable cost. Based on their interest she provides recommendations on age-appropriate books. With her handpicked collection, she hopes that they fall in love with books and travel to the amazing world between their pages. She strongly believes that books are an amazing way to help children stretch their imagination and improve their comprehension and language skills. Currently her books are circulated around Bengaluru.
Unlike the above, this isn't an online library but is in a category of its own. Tanushree Singh, the passionate force behind this venture, always wanted to start a library or a bookstore. 5years ago, when a room went up on offer in Faridabad, with the help of a friend she took the plunge.
Reading Raccoons Charitable trust was formed to help run this no profit, community library. Anyone is free to walk in and read but if you take one home, you pay a small fee and are good to go. Managed by volunteers, its subscriber base is floating and the library runs on passion and trust. With no inventory of books, Tanushree has no idea how many she has but claims that none has ever been stolen.
Buoyed by this, she coerced her husband into converting a spare room into a library at their homestay in Himachal Pradesh. Kids from nearby, who'd never seen picture books or story books, walk in at all hours to pick and read them here. The library has taken a life of its own with impromptu storytelling and painting sessions with the homestay guests and the hosts.
Not one to rest on her laurels, Tanushree has helped set 13 libraries across schools in Himachal Pradesh. Barring 2020, due to COVID, every December her trust ties up with other NGOs to host a carnival where almost 500 underprivileged kids come and pick books of their choice to have, hold and keep. She says it's the smaller joys that propel her dream towards reality.
All these women are a force of nature in their own right and I can only wish them more readers. As for the readers, I shall leave you with this —Albert Einstein who was famous for losing his way home and forgetting his address has said, "The only thing that you absolutely have to know, is the location of the library." Let's all heed to his advice and rush to find one closest to ours.
Article Author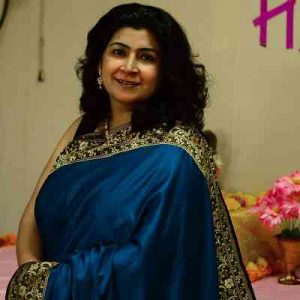 Link to Shivani's Books: