Book Title – Out of My Mind
Author – Sharon M. Draper
Publisher – Simon & Schuster India
Type – Paperback
Recommended Age – 10 years and up
Melody Brooks was a genius girl! Words always floated around her. She was neither able to walk nor talk.
She had cerebral palsy, though she was awfully smart. She had a photographic memory; she remembered every moment of her life. This is a story when she was finally able to talk and express herself.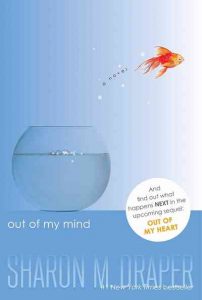 Plot Summary
Her mother took her from one hospital to another asking if it was right to take her to school. Even though the doctors took tests, they were not smart enough to understand that Melody was smarter than them and needed tricky questions to be asked.
Her mother knew that Melody was smart and took her to Spaulding Street Elementary School. There she was taken to room no.H5 where she met other kids who also had one or the other health issues.
There the teachers treated children like nursery kids. Even after the 6th month, her teacher hadn't taught the letters after letter B. One day during the session of learning how to pronounce buh, Melody knew that the class would explode, at that moment one of her friends started crying and she couldn't handle it so she started screeching, others also got frustrated and started screeching and crying. Not Good! The teacher called the principal and she called Melody's mother.
There was a fight between the teacher and her mother. Everyone was happy that there were no boring and nursery classes because the teacher had quit her job after the fight. Mrs Shannon was replaced. She was a fun teacher and taught the children what they needed to learn, what the fifth-grader had to learn instead of ABC.
She also took them to inclusion classes where normal students used to learn. Melody met a girl called Rose and they became close friends eventually. After few months Melody's mother gave birth to a baby girl and named her Penny. And wait, have I mentioned Mrs.V? Well, she was Melody's neighbour and her baby sitter. She also used to babysit Penny.
At school Melody also had her own aide called Catherine. One day Rose brought her new laptop, Melody then realised that she needed a device specially designed for people like herself. After searching for a while, she and Catherine found a device called Medi-Talker. Then Melody informed Mrs.V. After waiting for several days, when the Medi-Talker arrived, she and Mrs.V added all the words, names, sentences, and phrases she needed to use.
She had participated in Whiz kids' competition which was being held in Washington DC but she had to miss her flight unfortunately because her friends betrayed her. Meanwhile, Penny fractured her leg and had to rush to the hospital. When Melody got to know that her friends came in the 9th place, she laughed seeing the plastic painted trophy and thinking if they did not betray her, they would have bagged the first place.
My take
My favourite part is when Melody gets her life, her destiny, the Medi- talker. Whenever I see people happy, it makes me happy and that's why I read that part again and again.
Why I recommend this book?
It doesn't matter what others say but it highly matters when you give your 100% in everything! The author narrated it perfectly "Nothing is impossible! Believe in yourself!"
// This book review has been penned by 9-year-old Prisha Ambi and has been chosen for publishing on our platform from the weekly submissions. The cover image used for this post is also the work of the child. //